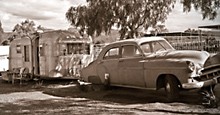 Behold the travel trailer—a home on wheels that you take into the wilderness. How do you explain the allure? And why have travel trailers been captivating lovers of the great outdoors for nearly 100 years?
The answer has something to do with our "inner nomad," according to RV historian Al Hesselbart of Elkhart, Indiana.
"As Americans, we are vagabonds," said Hesselbart. "We have this big, beautiful country and the inherent urge to go see it. So when auto travel and the ability to tow a bed behind us came into being in the early 20th century, Americans wanted to get out there and go."
Hesselbart has written a book on travel trailer history and now serves as archivist for the Recreation Vehicle/Mobile Home Heritage Museum and Library in Elkhart. He said America's first travel trailers were either homemade by car owners or custom-built by local craftsman.
"We have in the museum what is recognized as the oldest existing travel trailer," Hesselbart said. "It's a 1913 auto camper, wooden framed with thin plywood sides, covered with oilcloth and screens on the windows.  It was custom-made by a carriage works in Los Angeles for a professor from Cal Tech."
Other early travel trailers were basically tents on a platform—"canvas cabins"—that didn't need to be folded down to be towed. That's because the top speed for an automobile in those days was 20 miles per hour.
Hesselbart said the public's growing interest in travel trailering helped shape the development of the U.S. National Park Service system.
"Teddy Roosevelt and other presidents of that era recognized that people would flock to those National Parks if there was some place to stay there," he said. "So, by the 1920s, as new national parks were being formed, campgrounds became part of the design."
At the same time, cities in the Midwest and throughout Florida were forming municipal campgrounds to welcome the trailer campers and their vacation dollars.
In 1919, a social club was formed called the Tin Can Tourists of the World. For the next 50 years, the Tin Can Tourists assembled at various campgrounds for huge rallies, complete with communal cooking, dining, games and campfires.
In 1955, a similar organization was formed for owners of Airstream trailers, those rounded "silver bullet" models that debuted in 1932. Members of the Wally Byam Caravan Club International (WBCCI), named for Airstream's founder, still meet regularly at rallies and travel together in caravans.
There are some dark chapters in the history of the travel trailer. During the Great Depression, many bankrupted Americans lived permanently in trailers, which led to the image of trailer parks as "ramshackle kinds of places," Hesselbart said. Then, during World War II, mass production of travel trailers nearly came to a halt when aluminum and other metals were reserved for military use.
The industry bounced back, however, when the GIs returned home, got married, started families, and needed an inexpensive way to recreate. The 1950s and '60s were the boom years, when travel trailers became more comfortable, modern and glamorized.
Much of that glamor is being preserved today in restored vintage trailers. In fact, the Tin Can Tourists club died out in the 1980s, but was revived in 1998 as an "all-make-and-model vintage trailer and motor coach club." And lovingly restored vintage Airstreams are a big draw these days at WBCCI rallies, and evoking nostalgia wherever they go.
When asked to explain the enduring appeal of his company's travel trailers, Airstream CEO and President Bob Wheeler put the recipe for popularity like this:
"The perfect manifestation of form follows function, with a dash of American craftsmanship, '50s cool, and wanderlust. Bake for 80 years."
Want to delve deeper into the history of travel trailering? Check out these websites: